An introduction to the world of car audio, meet the author and a general test to see how all this will work.
---
So, what is "Car Audio"?
Well, I believe it's anything to do with upgrading your present system to enhance your listening satisfaction. It might be as simple as changing your speakers or, going to the extreme and adding signal processors, amplifiers, sub woofers and component speakers. Anything to enhance YOUR listening pleasure in YOUR vehicle.
And just how is this enhancement accomplished?
That's the three thousand dollar question! I hope through these columns that you will have a better understanding of the components used, how they are installed and how they affect the sound that you hear. You will have to let me know if I'm doing a good job or not, and let me know how to improve this column to make it better.
What topics will be covered?
Everything from selecting components, installing them, solving problems, custom install techniques and any other tips I can think of. Remember though, I am NOT a professional! Everything I have learned has come from reading, experimenting, making many mistakes and picking the brains of the real professionals. That means the information I present is what I believe to be correct, of course I'll do my best to pass along correct information but I may occasionally slip up. When that happens I'll deny everything! Just kidding, I'll follow up in later columns.
That said, how about we finish up this first column with an introduction as to what got me in interested in all this. After all, you'll be listening to me ramble on and on over the next few months so you might as well know how I got into this hobby and what I've learned while doing it. Sound ok? If not just exit now and I hope to see you next time! For those of you bored enough or interested enough to listen here's how I got into this rather expensive but very satisfying hobby.
Back in 1982 I spent two years "doing up" my first car; a 1971 Firebird. I had the thing stripped down to the shell and in numerous pieces. I think I still have some of those extra pieces laying around somewhere!!! When it was all done I had to put in a radio as the old AM mono radio just didn't cut it. At the time car audio was in it's infancy at best, so hi performance audio equipment was non existent. Being on a limited budget also constrained my choices. I settled for a Craig AM/FM cassette deck, Clarion in dash equalizer/booster and a pair of Jensen tri-axial speakers. Many a happy weekend was spent cruising Clifton Hill, in Niagara Falls, with that car. I dare say many a tourist was offended by the tunes that were emanating from the 'Bird but hey, I was 18 and didn't give a damn! That system sufficed until my youngest brother came home one day with a Coustic amplifier and two 10" sub woofers. One listen to the bass coming out of his tiny Chevette and that was it, it was time to upgrade! However, in order to go to university the Firebird had to go and my audio system was put on hold for four years. Upon graduation I bought a used 1986 Iroc-Z (I know, I know a Slowmaro IWOP-Z) and put my first real system in it. A Sony indash cd player with optional slide out cassette, a Yamaha 4 channel amplifier (good amp still have it), Hi-Fonics 8" subs and Polk Audio front speakers. This system was significantly better than my previous attempt and taught me a lot during it's install. For one, I found that there were actually magazines that dealt only with Car Audio! From that point on I would buy three different publications a month to learn all I could. The IROC started to wear thin on performance after a short year of ownership so it got ditched in favor of my present car, a 1991 Plymouth Laser RS Turbo. The first system in it used many of the components from the IROC install and were installed in the hatch, on the back of a subwoofer box. Audio competitions were now pretty popular so I attended a few and discovered the world of IASCA (International Auto Sound Challenge Association). At this point the system went through a major overhaul. New components were bought; an Alpine in dash cd player, Autotek 31 band trunk mount eq, Soundstream 5 channel amplifier, OZ 10" subs, MB Quart speakers and miscellaneous other components like power capacitors and hi-performance cables and interconnects . The layout also went through a re-design in favor of a stealth appearance. Competition fever had hit and I would spend weekends driving all over southern Ontario to competitions. I didn't do badly, taking a number of top five finishes. Considering I was competing against cars that had been prepared by professionals I was happy knowing I had done the work myself and for considerably less expense.
Not much has changed in the last few years with the system as it still performs well. I no longer have time to compete but still have an interest in the hobby. I've done a few cars for club members and hope to do the odd one here and there to keep me interested (it also helps pay for those performance modifications!). So that's it! I hope that some of my interest rubs off on you and motivates you to upgrade your system. Trust me, once you've heard a nice system you'll never want to go back to the crummy factory set up. Here are a few pictures just to show you what can be done in the hatch of a DSM. Interested??? Then stay tuned!

---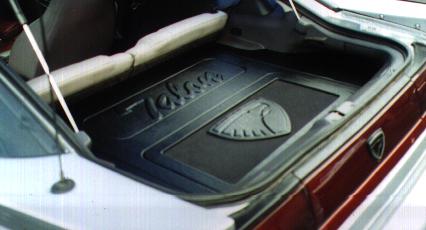 ---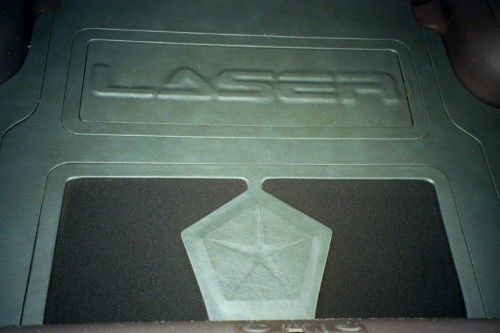 ---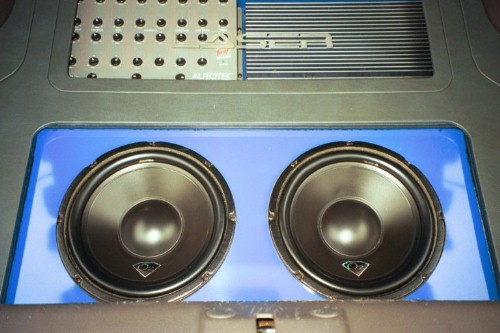 Next time: Everything you wanted to know about head units but were afraid to ask.
Back to the main "Sound Advice" page.