Cayuga Opening Day (Free Day!) 1999
Saturday April 3rd, 1999
It was a beautiful spring day, and a great place to be...
The place was packed! Everyone and his cousin were there... this unfortunately meant that those who wanted to run, only got a few runs in... but nevertheless, it was a blast.




This would be us at Tim Horton's on the way there... what a Caravan, moving through the streets of Stoney Creek!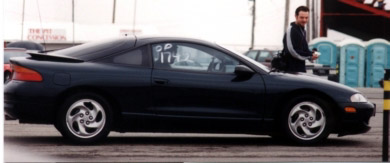 This would be us waiting in line to get Tech'd in. It was a HUGE lineup... but the good news is that they only register your name once, and you can use that car number for the rest of the year!
| | |
| --- | --- |
| | So, Craig Watson lines up... against a V8 beast. |
| His launches have been decent... | |
| | But, alas, in this case, at the end of the track, he was in the rear... |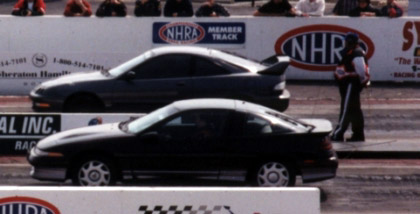 Of course in this case, the contender got his ass whooped.
| | |
| --- | --- |
| | So, Steve gave it a shot... in his killer FWD... |
| But this time, Victory was with Club DSM! | |
| | |
| --- | --- |
| | And then it was Mark's turn... to unleash a little whoop on this poor V8 |
| By a longshot buddy... by a longshot. Pull Beside! | |
See ya at the next Test 'n Tune day! Keep an eye on the events section!